By Zach Arnold | September 13, 2017
UFC ace Jon Jones failed a USADA drug test for the steroid turinabol. The B sample came back positive for turinabol.
Andy Foster, Executive Officer of the California State Athletic Commission, publicly pleaded for due process rights while claiming that five attorneys for the state of California were investigating the failed USADA drug test.
Both USADA & the California State Athletic Commission are expected to have appeals hearings with Jon Jones over the turinabol drug test result.
Percolating underneath the impending appeals hearings is the serious revelation that the California State Athletic Commission does not drug test UFC fighters who are tested by USADA. This blockbuster development was revealed by Andy Foster during a Sherdog Radio interview.
It is nothing new for athletic commissions to approve third-party drug testing collectors like USADA or VADA to collect samples from fighters. What is new is the admission from California that USADA-tested fighters are not drug tested by the California State Athletic Commission.
"We use them to avoid redundancy."
That answer doesn't pass the smell test. It is one thing for an athletic commission to approve supplemental drug testing to an agency like USADA. It is an entirely different situation to outsource drug testing to USADA under the rationale of redundancy and saving money.
The allure for California to outsource drug testing of top UFC fighters to USADA is easy to understand. It doesn't make it right. It creates a scenario of "what ifs" when a fighter fails a USADA test. Would the fighter have tested positive for the same drug under a California-administered drug test? Are there different protocols relating to chain of custody in handling samples?
The attorney expected to represent Jon Jones in his appeal with California is Howard Jacobs. Jacobs represented Alexander Shlemenko and faced ridiculous due process roadblocks from a completely biased California State Athletic Commission board that engaged in disparate treatment. That resulted in a Los Angeles Superior Court judge putting California on blast. Jacobs will be facing the same hostile board in trying to represent a client who is staring at the prospect of at least a two-year suspension.
The history of the California State Athletic Commission handling drug testing affairs for fighters has been legally sketchy. Given the high-profile nature of the fighter in question (UFC top star Jon Jones), they can't afford to screw up when the world is watching.
Topics: CSAC, Media, MMA, UFC, Zach Arnold | 3 Comments » | Permalink | Trackback |
By Zach Arnold | September 5, 2017
Earlier this year, Yoshihiro Takayama suffered a spinal cord injury. Donations to him & his family can be made belowhttps://t.co/YkFmsXwOHQ pic.twitter.com/2tOks7hdXI

— Simon Grimm (@GotchStyleWWE) September 4, 2017
Japanese icon Yoshihiro Takayama is paralyzed from the neck-down and is unlikely to regain full body movement for the rest of his life. He suffered injury four months ago during an in-ring accident in a professional wrestling match.
Takayama's top wrestling rival, Kenta Kobashi, has established a donation section on his FortuneKK store for fans to make donations via credit card. The donations will be used for all expenses occurred as a result of Takayama's accident.
The legend of Yoshihiro Takayama
I can't write the modern history of Japanese MMA without mentioning the name of four famous professional wrestlers: Kazushi Sakuraba, Yoshihiro Takayama, Shinya Hashimoto, and Naoya Ogawa.
Sakuraba and Takayama both came out of the UWF-International system in the mid-90s. If you had put a gun to my head and made me pick which two UWF-International wrestlers I would have picked to become the Japanese icons of MMA's golden era, I wouldn't have picked either man. Sakuraba was a promising talent but languished in the middle of the fight cards. Takayama was the goofy comedic sidekick to matchmaker Yoji Anjoh. Anjoh & Takayama were known as The Golden Cups and feuded in both WAR (Gen'ichiro Tenryu's promotion) and New Japan. Anjoh, it should be noted, was the emissary sent to confront Rickson Gracie with Japanese photographers on stand-by. Rickson beat Anjoh up so badly that Japanese fans and media pressured UWF-International ace Nobuhiko Takada to fight Rickson to avenge Anjoh's loss of face. That's how PRIDE started.
Takada would lose twice to Rickson. Sakuraba, coming off of the infamous UFC Japan situation with Conan Silviera at Yokohama Arena, would become the ace of PRIDE and obtain legendary status with his feud against Royce Gracie.
The road for Yoshihiro Takayama was much different. He formed a very promising tag team with Takao Omori in All Japan Pro-Wrestling called No Fear. Omori was an unusual character with a swimming eye and mannerisms but he had great athletic skill and worked really well in tag scenarios. Takayama was the Japanese giant.
The tag team would get derailed under mysterious circumstances when Omori lost face after he was humiliated by former New Japan Pro-Wrestling heavyweight ace Shinya Hashimoto in the NOAH ring in December of 2000. A wrestling match turned into a bizarre fight. Hashimoto, under the new wrestling umbrella promotion called ZERO-ONE, was coming off of his own loss of face to the Japanese public after Olympic judoka Naoya Ogawa had humbled him on national television in several fights. Ogawa was Inoki's top ace in wrestling and MMA. Hashimoto was trying to rebuild his reputation and Takao Omori paid the price. NOAH tried to rebuild Omori over the next couple of years, including foreign trips to America, but the potential was shattered. No Fear was No More.
Around this same time period, major advances were being made by Antonio Inoki to work with PRIDE and K-1 to produce major league fighting events on New Year's Eve. The first mega event, before the major broadcast television partners got into the bidding wars, happened on December 31st, 2000 at the Osaka Dome. Inoki was busy blending the worlds of wrestling and MMA together. Results that happened in MMA would impact status in the professional ring. (See: Tadao Yasuda.)
Winning by losing
Yoshihiro Takayama got into the MMA game and endured two incredible beatings in 2002. His fight with Don Frye is still the most legendary slobberknocker in the history of Mixed Martial Arts. Takayama's fight with Frye made the giant a household name in Japan. He was able to earn a substantial amount of bookings.
Three months after the Frye fight, Takayama would wrestle Japanese professional wrestling super boss Mitsuharu Misawa at Nippon Budokan in Tokyo for the GHC Heavyweight title in a brutal match that resulted in Takayama taking another trip to the hospital. This was the re-match from their first encounter in April of 2001.
And three months after that fight, Takayama would get pummeled by Bob Sapp on New Year's Eve.
Takayama absorbed and delivered three incredibly vicious, ruthless beatings that no human should ever possibly be involved in. Every beating he dished out and took, the myth of Takayama grew and gave him an incredible aura.
The beatings added up very quickly, however. Fight opponents took liberties with violence because of how tolerant Takayama was of accepting as many beatings as he delivered. He suffered a stroke in a famously violent G-1 tournament match against Kensuke Sasaki in 2004. Despite the health scares, Takayama continued to wrestle in some high-profile fights — including the January 2010 Tokyo Dome match against current WWE ace Shinsuke Nakamura.
Without question, Takayama was and remains one of the most respected Japanese professional wrestlers ever — both behind the scenes and in the ring. In numerous conversations I've had with American wrestlers who shared locker rooms with Takayama, they all remarked at what a genuinely nice guy he was. Takayama has a famous love for classic cars, American culture and traveling, and music. He has quite a few memorabilia items of KISS and The Rolling Stones. One wrestler in particular told me that Takayama had a dream to visit all 50 American states but that he wasn't sure if he could do it.
In professional wrestling, you never know when your next bump will be your last bump. Ask the MMA legends who made the cross-over to professional wrestling. Don Frye endured significant punishment in his wrestling encounters. Both Frye and Takayama are in very difficult life situations but their names will be forever married in fight culture.
Donations for Yoshihiro Takayama
Takayama's top wrestling rival, Kenta Kobashi, has established a donation section on his FortuneKK store for fans to make donations via credit card. The donations will be used for all expenses occurred as a result of Takayama's accident.
Topics: Japan, PRIDE, Pro-Wrestling, Zach Arnold | 5 Comments » | Permalink | Trackback |
By Zach Arnold | September 4, 2017
This event will be on DAZN in Japan. I'm not sure if it will air on terrestrial television or not…
9/23 Saitama Super Arena (8:30 AM Japanese standard time)
Under card
Welterweights: Daichi Abe (Pancrase) vs. Lim Hyun-Gyu
Strawweights: Shuri Kondo (Pancrase champion) vs. Chan Mi Jeon
Flyweights: Jussier Formiga vs. Ulka Sasaki
Welterweights: Alex Morono vs. K-Taro Nakamura
Welterweights: Luke Jumeau vs. Shinsho Anzai
Flyweights: Jenel Lausa vs. Naoki Inoue
Main card
Featherweights: Charles Rosa vs. Mizuto Hirota
Featherweights: Teruto Ishihara vs. Rolando Dy
Light Heavyweights: Gokhan Saki vs. Henrique Da Silva Alves
Lightweights: Takanori Gomi vs. Kim Dong Hyun
Strawweights: Jessica Andrade vs. Claudia Gadelha
Light Heavyweights: Mauricio Shogun vs. Ovince St. Preux
Since UFC's fight several years ago in Japan, each successive event has had less and less attention. UFC has had a golden chance to take over a major combat sports market and failed to do so.
Topics: Japan, Media, MMA, UFC, Zach Arnold | 5 Comments » | Permalink | Trackback |
By Zach Arnold | August 31, 2017
UFC champion Jon Jones was drug tested by both the California State Athletic Commission and USADA (US Anti-Doping Agency) before and after his UFC 214 bout with Daniel Cormier in Anaheim, California for the UFC Light Heavyweight title. USADA is contracted with UFC, hence that is a private contractual matter that fighters waive their administrative rights to. Two parallel tracks.
Jon Jones passed California State Athletic Commission drug tests. However, Jon Jones initially tested positive for the oral steroid turinabol in a pre-fight USADA test.
Jon Jones has requested that the B sample by tested by USADA to confirm the findings of the USADA A sample for drug testing. If the B sample confirms the A sample results, Jones will have to pursue a two-track legal route with an appeal before the California State Athletic Commission and arbitration with USADA.

California State Athletic Commission Executive Officer Andy Foster
In a strangely curious interview with MMA Junkie, California State Athletic Commission Executive Officer Andy Foster publicly commented about Jon Jones testing positive for the oral steroid turinabol in a USADA drug test. Foster commented on the matter while preaching for due process rights.
The horse is already out of the barn. The news about Jon Jones failing a USADA drug test should have never been made public by UFC or any administrative body until the B sample was already tested to confirm the testing results from the A sample.
By going public with the results from the A sample USADA tested, the court of public opinion has already been tainted. UFC has the right to disclose the USADA testing results since their fighters have contracted with them for drug testing services. That doesn't make it right, however.
Even worse, Athletic Commissions who allow USADA testing of UFC fighters like Jon Jones should keep their mouths shut until the B sample testing results are concluded. There is no point in publicly commenting on USADA test results until more information is processed.
The MMA Junkie interview with Andy Foster served zero purpose other than to grab headlines and inflame a sensitive situation.
"At that point, one of two things is probably going on here: He's either extremely careless, or he's a cheater," Foster said. "I know he's already been extremely careless once in his career … but none of this makes any sense. That's why I think it's very important that we vet this and look at all the available evidence before we jump to conclusions and hang this guy out to dry."
A UFC fighter, especially UFC champion Jon Jones, understands that failing a drug test is an issue of strict liability. There are mitigating circumstances to reduce the punishment but punishment is coming nevertheless.
Andy Foster commenting on possible intent is irresponsible. You either pass or fail the drug test. In this situation, it was a USADA test that Jon Jones failed and not a California drug test.
If the intent of the MMA Junkie interview was to show that California is really on the case and is on top of things, you can see why Andy Foster claimed that he has five attorneys from the Department of Consumer Affairs in Sacramento and the Attorney General's office in San Diego handling the Jon Jones USADA drug test failure. What do you need five attorneys for? This is preposterous grandstanding. It's also an admission of either administrative overzealousness in Sacramento or rank incompetence. Claiming that you have five attorneys investigating UFC champion Jon Jones for allegedly using the oral steroid turinabol is a gigantic waste of the Athletic Commission's budget, no matter how large the fine is going to be against Jon Jones.
It's time for the powers-that-be to address due process issues for fighters who initially fail drug tests. Now set a good example by staying silent until B samples are tested before you publicly comment on such matters as an administrator.
Topics: CSAC, Media, MMA, UFC, Zach Arnold | 4 Comments » | Permalink | Trackback |
By Zach Arnold | August 26, 2017
Dana White was non-committal about whether or not WME-IMG would be open to giving Conor McGregor a piece of UFC in order to keep him active long-term. After Saturday night's fight with Floyd Mayweather in Las Vegas, it is blatantly clear that Conor McGregor will continue fighting in both boxing and MMA. The question is what price it will cost the new UFC ownership to keep the gravy train going.
There is a ready-made fight on the table with Conor McGregor vs. Paulie Malignaggi after their training camp fallout. There are plenty of UFC fights on the table for McGregor at big arenas. UFC has Conor McGregor under contract. They made a lot of money going along with the Floyd Mayweather charade. With as much debt financing as WME-IMG is currently exposed to with their purchase of UFC, they are all-in with homerun mega fights.
Randy Couture commented that Conor McGregor's venture in boxing highlight to the public the financial issues facing top MMA fighters. Once the general public saw the kind of money that Conor McGregor could make in sponsorships and PPV outside the UFC financial model umbrella, Couture believes it will change the way people look at MMA fighters and how MMA fighters conduct themselves. More fighters will try their hand at boxing. The MMA promoters will essentially become hybrid promoters. As long as the Ali Act is not going to get amended any time soon, the MMA promoters are free to do whatever the hell they want.
The drama before the Floyd Mayweather/Conor McGregor fight involved cable, satellite, and internet PPV providers crashing due to the high volume of last-minute PPV buys. Showtime lost money at the last minute because they could only provide a standard definition feed for some providers.
To top everything off, the level of volume at the sportsbooks for the Mayweather/McGregor fight matched or surpassed the Super Bowl. There were a series of 7-figure bets. The casinos won big. As long as the casinos are winning big, Conor McGregor's value remains sky high.
If the UFC wants to continue their marriage with Conor McGregor, they're going to have to sweeten the pot. Since Lorenzo Fertitta is no longer the owner, Dana White sounds open to giving Conor McGregor someone else's money. McGregor is a fabulous self-promoter. He's a great promoter, period. WME-IMG needs him. After the self-destruction (again) of Jon Jones, UFC needs Conor McGregor more than ever.
Topics: Boxing, Media, UFC, Zach Arnold | 5 Comments » | Permalink | Trackback |
By Zach Arnold | August 22, 2017
Jon Jones…you were saying? ? pic.twitter.com/ib9Otlw0Z0

— theScore (@theScore) August 23, 2017
The UFC legacy of Jon Jones can be summarized in one sentence: the only man who could stop Jon Jones was Jon Jones. He is his own worst enemy.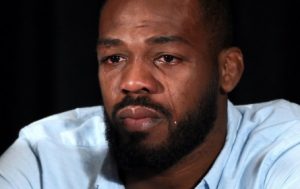 Image credit: Black Sports Online
The history of Mixed Martial Arts is littered with hardcore drug users. Doping isn't necessarily a career killer in the eyes of American sports fans. It's how you handle the public relations. Absurd, but true. If you're apologetic and wink-wink, fans will give you a second chance. If you are shameless and claim you need testosterone to function as a fighter and as a man (e.g. Chael Sonnen), people will laugh along with your charade and continue watching your fights. He still has a career in Bellator.
But what you can't do is lie about using steroids once you get caught and then misrepresent your future intentions. That, for some bizarre reason in America, is when the book will get thrown at you. Call it the Lance Armstrong problem. Being unrepentant about doping won't automatically kill your career. Lying about being unrepentant will.
Jon Jones got busted for the steroid Turinabol. Reportedly a pre-fight drug test prior to UFC 214.
How stupid do you have to be to put yourself into a situation where you were given a second chance to make millions of dollars in fights lined up against Daniel Cormier, Alexander Gustafsson, and Brock Lesnar? Talk about printing money as fast as the Federal Reserve.
Now it's all gone. Finished. You can forget about it. Jon Jones will be inactive for at least another year, if not two years. He's fortunate in that the depth at Light Heavyweight and Heavyweight is shallow enough to allow him to come back and win again. If people were willing to pay to see Jon Jones beat Daniel Cormier at UFC 214, they'll be willing to pay to watch him fight in a couple of years. Right?
Where does Daniel Cormier go to get his reputation back? Even without steroid usage, Jon Jones would have likely won the UFC 214 match. That's the whole problem with doping. You're left to try to come up with the impossible of measuring someone's win probability clean vs. doping. Fighters use steroids to recover from previous damage due to steroid usge. Fighters use steroids to recovery from training injuries. Some fighters use steroids because they really are insecure about their performance and need that placebo effect to impact their mental game.
Jon Jones team already saying Jon is being set up… pic.twitter.com/4BsOMfXOZP

— Izi (@MMA_Inciter) August 23, 2017
Jon Jones is damaged goods. Daniel Cormier's reputation is damaged. He's suffering the same career fate as Michael Bisping. And yet, I still believe that Jon Jones will maintain a more credible athletic reputation amongst UFC fans than Daniel Cormier will. Sad, but true.
Daniel Cormier can't prove the intent behind Jon Jones doping but he could certainly prove that Jones, given his previous suspensions, had the responsibility and foreseeability to follow the right protocols to not get busted again for doping. Cormier can't take back the visual image of losing to Jon Jones at UFC 214. He can't take back the haunting post-fight interview with Joe Rogan. Those are permanent memories.
If UFC cuts ties with Jon Jones, Bellator will sign him after his suspension and make a lot of money. UFC can't afford to cut Jon Jones, especially if current ownership wants to sell UFC off to a group of hedge funders in a couple of years. Outside of Conor McGregor, Jon Jones is the most valuable PPV asset UFC has. Well, right now he is. He still may be their most valuable asset in two years when the time comes for a Brock Lesnar super fight.
All Jon Jones has to do is follow the right public relations playbook on doping. Is he even capable of doing so?
Topics: CSAC, Media, MMA, UFC, Zach Arnold | 10 Comments » | Permalink | Trackback |
By Zach Arnold | August 18, 2017
The Nevada State Athletic Commission has always been surrounded by turmoil but managed to skate through various public relations crises. That changed when Keith Kizer took over as Executive Director. All hell broke loose with every possible faction fighting each other in a massive political tug-of-war. The turmoil blew up in everyone's face, especially UFC's, after the testosterone hall pass era for fighters claiming they needed the base chemical of anabolic steroids in order to function as fighters.
The political wars and legal fights took their toll. Nevada has & will continue to face difficult budgetary decisions. Power brokers on the Athletic Commission, including Keith Kizer, found exit strategies. Without warning, Nevada politicians decided to untether the Athletic Commission from the state's general fund. Years of legal charges from the Attorney General's office were dump-trucked on the AC as Carson City said, "you're on your own."
The financial changes were dramatic. No more financial support from the state. The Nevada State Athletic Commission would have to finance its own operations the same way every other major Athletic Commission in America does. The price of doing business changed as well: an increase of the gate tax on events to 8% in exchange for no television or PPV tax money. This change happened right when the Nevada State Athletic Commission expanded "enhanced" drug testing. USADA's agreement with UFC quickly followed.
The initial spin from the Athletic Commission? Self-financing is wonderful! We're making lots of money! Our budget is only $550,000 a year. We're not California, where you can make $1.59M in yearly revenue but still manage to lose $50,000 in a year.
Here's the catch:
Continue reading this article here…
Topics: Boxing, CSAC, Media, UFC, Zach Arnold | 1 Comment » | Permalink | Trackback |
By Zach Arnold | August 11, 2017
Two weeks ago, The Associated Press reported that tickets were not sold out for the Floyd Mayweather/Conor McGregor fight in Las Vegas. As of today, nothing has changed. There's reportedly been a cooling off of ticket sales and sponsorship appeal.
"This isn't a damn Rolling Stones concert. That's the only thing that sells out in seconds."
Is this the kind of language you would expect from participants in the biggest money fight ever booked for combat sports?
Initially, it rings hollow. The fight is going to attract a ton of eyeballs, both on Fox for the undercard and on PPV platforms. Everyone is going to be a winner, as Mayweather recently told Stephen A. Smith in a sit-down interview. The IRS will win, for sure.
So why the panic? Why the anxiety? Why make moves like petitioning the Nevada State Athletic Commission for eight ounce gloves and putting that beleagured AC in a negative spotlight once again?
Remember what the expectations were before the Mayweather & McGregor press tour. A sold out MGM Grand Garden Arena (now T-Mobile Arena). An over/under of 5 million worldwide PPV buys. After the press tour, the media predictably soured on the antics. Betting margins started widening with sharps starting to place money on Mayweather. Odds for the fight were ridiculously in the 5-to-1 Mayweather favorite range.
The @southpointlv took a $880,000 bet today on Floyd Mayweather to beat Conor McGregor at -550 odds. The bet would net $160,000.

— David Payne Purdum (@DavidPurdum) August 11, 2017
Then came the Paulie Malignaggi stunt from Conor's camp. Floyd comes out and says he's going to beat up Conor McGregor for all black people while claiming that he's "lost a step" and has had some shoulder issues.
Mayweather's camp built a fight on pure money-grabbing bravado. They didn't hide their motives at all. Now they're trying to find their soul and pimp whatever they can out of it. I think they're confusing vanity for soul.
For such an easy fight and such a historic debacle, you would think Floyd Mayweather would be happy. His camp's actions show anxiety, even a touch of panic… not because of the prospects of Conor McGregor winning but because of the prospects of not finding seat-fillers for an event sellout. Bizarre.
Topics: Boxing, Media, Zach Arnold | 4 Comments » | Permalink | Trackback |
By Zach Arnold | August 8, 2017
"All along we've been hoping to lose 12 million subscribers and shift to a much worse business model." https://t.co/9QN4m0ARxc

— Brian Bedol (@brizilla) August 8, 2017
The bundling model that propped up so many televison properties on cable in America is dying fast. Disney picked up a shovel today and started digging the proverbial grave with its announcement of pulling all programming from Netflix and ESPN moving to a streaming platform in 2018.
ESPN was the biggest cash cow on American cable. It's taking a beating because of horrific television rights deals with the NFL and NBA. With television consumers cutting the cord, ESPN is suffering a death by a thousand paper cuts. CBS added onto the pile today by announcing it would create a 24/7 streaming sports news channel that would directly compete against ESPN. Sportscenter, which had been ESPN's marquee property for four decades, is losing relevancy by the day.
I shed no tears for any of the parties involved. ESPN is still the giant behemoth in sports programming. With a move to streaming platforms, expect big wigs in Bristol to get the axe because Burbank will be more in control of calling the shots moving forward. Cable companies will simply shift into pure internet pipeline plays and make just as much profit as they had been serving as distributors. As long as the big cable companies can build new PPV platforms, they will do just fine.
The real impact is now on the major sports leagues and American sports properties. WWE beat everybody to the punch but they are treading water with 1.5 million subscriptions. UFC Fight Pass, at this point, is an albatross for the venture capitalists and would likely be transferred for management to a media conglomerate (e.g. FOX).
The biggest question of all for promoters like UFC: do you do your own thing or do you work with the big boys and piggyback on their risk consumption? WWE went on its own path and smartly so. UFC is heading in the opposite direction by wanting to increase its rights fee three-fold or even more. At that point, your options are limited and Fox is the major player in town.
Conventional television is not dying any time soon. If anything, the new ATSC 3.0 standard coming in a couple of years to American television sets via rabbit ears (antenna) will offer 4K picture quality with streaming options to pay for addition content. Betting on broadcast television is a solid choice.
Topics: Media, Zach Arnold | 1 Comment » | Permalink | Trackback |
By Zach Arnold | July 30, 2017
The House always wins … unless the house is entirely leveraged or the book has suffered hemorrhaging one-sided losses.
The era of Ari Emanuel and WME-IMG ownership of UFC is quickly being defined by the notion of the "super fight." The twist is that the super fights proposed are not the most competitively balanced and go against the ethos of old UFC management. Lorenzo Fertitta built UFC on the backs of the highest level MMA fighters in the world fighting each other. Dana White convinced a skeptical public that he would book the fights that other promoters couldn't.
A year after WME-IMG's purchase of UFC, we're left with fighters like Jon Jones rightfully proclaiming Dana White to be a public face and errand boy for Ari Emanuel.
The nauseating circus of Floyd Mayweather vs. Conor McGregor has brought out the worst in everyone. The utter money-grabbing transparency of soullessness has helped lower the betting odds to a ridiculous 5-to-1 Mayweather betting range but people aren't rushing to pay their life savings for tickets with ridiculous "service fees."
The fight will benefit all parties involved but it not will be of benefit to boxing or MMA itself. This same pattern is what will define the future "super fights" coming to UFC.
UFC: Jones vs Lesnar tickets on sale now! pic.twitter.com/qGkwgugpLA

— smoogy (@smoogymma) July 30, 2017
We know the next two "super fights" on the table will be Jon Jones vs. Brock Lesnar and Georges St. Pierre vs. Michael Bisping. Ari Emanuel decided from day one of ownership that he would go for the homerun every single time rather than play moneyball the Joe Silva way.
Lost in translation and reporting by the mainstream sports media is a key motive behind making these fights that have created new leverage that undercard UFC fighters have yet to take advantage of: massive debt financing.
The United States is $20 trillion dollars in debt. The interest to service the debt is skyrocketing out of control. WME-IMG purchased UFC for $4 billion dollars on the back of debt financing. The difference between Uncle Sam and UFC is that the Feds can print monopoly money at any time and call it Quantitative Easing. UFC, not so much. The venture capitalists can spin all they want but their backs are against the wall because the clock is ticking.
To their credit, Jon Jones vs. Brock Lesnar is more the kind of super fight that the old ownership of UFC would have booked rather than Conor McGregor vs. Floyd Mayweather. Jones should be a prohibitive favorite over Lesnar and his chinny chin chin but you can at least make the argument that Lesnar has a chance to smother Jones with his size. Plus, Paul Heyman is easily the best mouthpiece in all of fight sports today. He knows what sells and what doesn't.
I'm most interested in the following two questions as a result of the fallout from UFC's new matchmaking strategy:
How will it impact interest from television networks in regards to what they will pay for a new television deal? Ari Emanuel reportedly thinks he can quadruple television rights fees.
How many new sports agencies are going to enter into the MMA space and replace the old guard?
Fighter representation has never been more critical. The adoption of an Ali Act for MMA has never been more important to give fighters a legal tool to challenge adhesive contracts. The window for fighters to amass leverage and entrench new-found power will slam shut once WME-IMG can pay back their debt financing or spin off UFC to yet another venture capitalist group. The top names have been able to take advantage of this window so far but the majority of fighters have not.
Topics: Media, MMA, UFC, Zach Arnold | 3 Comments » | Permalink | Trackback |
By Zach Arnold | July 10, 2017
If only UFC had known about Floyd's tax problems, they could have put a squeeze on him in negotiations.
Floyd Mayweather has petitioned IRS tax court in Las Vegas to get a reprieve on paying 2015 taxes he owes to the Feds. And his carrot? The upcoming Conor McGregor fight.
Fighters having tax & child support problems is old hat. What makes the Mayweather case so… special… is his claim that his "substantial" assets are restricted or illiquid. In other words, assets that can't be immediately used or sold off.
Like the Bugattis or private jets Mayweather bragged about getting thanks to Al Haymon?
What happened to all the cash that Mayweather reportedly uses to place massive sports bets? Or is that on credit?
It's zero surprise that Mayweather's burn rate is as high as it appears to be. And if it is true that Mayweather has a bunch of cash tied up in retirement accounts, that's a good thing for him. I'm not sure a gentlemen's club is an illiquid asset but that's not enough to finance his ongoing lifestyle.
Which means Floyd is going to have to continue fighting. He got an easy pay day with Conor McGregor. The pay day after that with either Gennady Golovkin or Canelo Alvarez (rematch) won't be as easy. If, by the grace of God, Jeff Horn gets a rematch with Manny Pacquiao and can win that, I guess Mayweather could toy with the idea of fighting him. I'm not sure about a fight with Terence Crawford…
Floyd needs opponents in a hurry. He's spending himself back into active competition. Uncle Sam is doing his part.
Topics: Boxing, Media, UFC, Zach Arnold | 8 Comments » | Permalink | Trackback |
By Zach Arnold | July 4, 2017
Bob Arum and his business partners, including ESPN, didn't pay Manny Pacquiao a reported $10 million dollars to draw 3 million television viewers.
ESPN's spin on Monday, bought hook-line-and-sinker by media fish, is that the rating for the Manny Pacquiao vs. Jeff Horn fight last Saturday night was the network's best showing in 10 years. When you put it that way, basic media types will take it at face value as ESPN saying they were happy with the initial results of their new marriage with Top Rank. Rephrase the news as Manny Pacquiao drawing three million viewers on ESPN and suddenly things become much clearer.
Who's to blame?
The easy scapegoat is Pacquiao. He's 38 and his reputation was permanently damaged by the Floyd Mayweather fight. The stink bomb of all stink bombs. The fact that he struggled to draw three million American cable viewers should signal the alarm in the Top Rank offices. That's bad.
I don't buy Pacquiao's ceiling on cable as less than 3 million viewers. Most combat sports fans probably don't either.
The problem is ESPN. They simply are incapable of long-term marketing & hype campaigns for sports outside of the NBA or NFL. Their marketing of MLB is dreadful. Their day-to-day coverage of baseball coverage is, at best, mediocre and has been recently scaled back.
Incompetence is bad enough. A lack of desire to be great is an entirely different insult to level at ESPN. I'm ready to level it.
ESPN's recent shotgun marriages with both Golden Boy & Top Rank signal an understanding of how bad they blew the Friday Night franchise. They half-assed it, just like they do with so much other network programming, and decided to outsource content to Al Haymon's PBC in order to save money. He had the fighters and the cash. They had the air time. And look what happened. The network did next to nothing in advance marketing to hype Haymon cards. They barely mentioned his name. They gave next to no air time in interviewing fighters or building shoulder programming content in the weeks, if not months ahead of major fights. Al Haymon was the john and ESPN was the pimp. A very lousy pimp.
After ditching Haymon, ESPN tried to save face with a new TV deal featuring Golden Boy cards that had been on FS1. ESPN has so far treated Golden Boy fights on the network with less hype and marketing than the 4th of July Nathan's Hot Dog Eating Contest. Joe Tessitore came out of nowhere to return to boxing duties on ESPN two Saturdays ago for a Golden Boy event in Frisco, Texas that ran head-to-head against the Andre Ward/Sergey Kovalev fight. There was no advance warning or heads up at all. What makes that remarkable is that Tessitore is viewed and treated as the rising star, the impending ace, of ESPN and is all over their college football & variety programming. Tessitore returns to boxing and nary a peep.
A week after the Frisco event, Golden Boy had an ESPN2 fight that was buried an hour before NBA Free Agency marathon wall-to-wall coverage. And not only that, the fight had next to no advance notice to ESPN viewers.
Management in Bristol has no idea what they are doing, nor do they care about details big or small.
What's next for Bob Arum?
Bob Arum's nightmare scenario unfolded in Australia. Manny Pacquiao didn't stop Jeff Horn. Horn won a terrible unanimous decision. Manny got paid $10 million dollars. The fight drew three million viewers in America.
Now what?
A re-match will happen. Likely Australia, but Las Vegas certainly seems to be an option. Has ESPN lowered their ratings standards enough to put in a bid to air the re-match on cable or on ABC? What is the ceiling for the rematch? Does ESPN even know how to market the fight? The network choose not to discuss Jeff Horn until the fight took place. He was treated as a nobody. Screaming Stephen A. Smith buried Horn right before the fight started. It was a clown show. Never in ESPN's judgment did they ever consider that Horn would have a close enough fight with Pacquiao to build him up, either for a re-match or for more TV fights.
ESPN spent fight week hyping a marketing campaign in which they claimed that the marriage to Top Rank would create "a resurgence for boxing" because a) Top Rank is the NFL of boxing and b) it's ESPN. Nevermind the fact that we got to this point because HBO slashed it's boxing budget and didn't want to pay for certain TV fights. For ESPN, marrying up with Top Rank was more about giving themselves a chance to market Bristol as boxing's savior than it was about actually promoting the upcoming fights.
Which brings us to Terence Crawford. Crawford is the fighter Top Rank needs to succeed the most on the ESPN platform. Crawford is the crown jewel. The plan, as hinted by Joe Tessitore, was for Crawford to end up facing Manny Pacquiao in a passing-of-the-torch fight. Instead, Pacquiao is stuck with Horn in a re-match. Crawford has Julius Indongo on home turf in Nebraska.
There is clearly an increase in fan interest in Terence Crawford. 806,000 viewers for the John Molina fight and 961,000 viewers for the Felix Diaz fight. Crawford vs. Indongo should do better than a million viewers on ESPN. But I don't know and I can't say for certain that's the case. ESPN is the wild card here and that should scare some people in the boxing business. Are they going to spend a week hyping Terence Crawford? The network spent one week hyping Manny Pacquiao and bombed. They need to spend a month, by their standards, hyping Terence Crawford.
If Crawford's fight with Indongo disappoints or bombs in the TV ratings, Bob Arum will have every legitimate reason to give ESPN a tongue lashing. ESPN blew it on the Pacquiao/Horn fight. Will their navel gazing continue to produce disappointing results?
Topics: Boxing, Media, Zach Arnold | 2 Comments » | Permalink | Trackback |
By Zach Arnold | July 2, 2017
By ESPN standards, hype week for the Manny Pacquiao/Jeff Horn fight in Brisbane, Australia was decent in terms of effort. By normal respectable TV standards, it was a half-assed job. Such is life in Bristol, Connecticut.
The new marriage between ESPN & Top Rank has all the good and ugly features of Bristol politics. Joe Tessitore apparently got the memo the last two weeks to call Floyd Mayweather a no-action, selfish moocher who takes but never gives back to boxing. Teddy Atlas is about showcasing Teddy Atlas. Jeff Horn was barely mentioned by name for fight week. The only semblance of an attempt to showcase Horn was a pre-fight video package. There was a Friday night dump pre-taped version of First Take with Andre Ward.
In other words, hype week encapsulated all the managerial issues that have dogged ESPN for the past five years when it comes to promoting non-football or NBA programming.
Then came fight night. There was no advanced notice of two other fights airing on TV, including Mick Conlan. The fights just aired. And did you know that Steve Levy and Screaming Stephen A. Smith would have frequent TV appearances during the night? I'm certain that Max Kellerman, given his contractual obligations to HBO, wasn't available but that doesn't diminish expectations of competency for SAS. Unfortunately, SAS didn't pass muster and got worse as the night went on.
Which brought us to Manny Pacquiao and Jeff Horn. Joe Tessitore did a good sell job on the 51,000 fans in Brisbane. The rugby stadium looked great. Michael Buffer was Michael Buffer. Then came the fight and Tessitore doing his damnedest hard sell for the first two rounds. As the fight wore on, it was relatively clear that Pacquiao was going to cruise to a decision victory. Then came R9 in which Horn got rocked hard and under different circumstances with perhaps a more respected finisher (at this point in time), the referee would have stopped it. Referee Mark Nelson almost did. But he let things go on. At that point, Horn was looking to survive and save face.
When the scores were read – 117-111, 115-113 x 2 – I was nodding my head and waiting for Pacquiao's hand to be raised. When Jeff Horn was declared the winner, I lost it. Everyone lost it. But true to form for ESPN Embrace Disgrace, writer Steve Bunce declared the negative reaction as drama queen material and called for Pacquiao to retire.
The conflation of two entirely different issues, in order to score cheap clickbait points, is what brings out the worst in Bristol.
The warning signs for UFC
As the outrage was unfolding on live television, viewers were girding their loins on the impending eruption of Atlasville and the U.S.S. SAS. Atlas lived up to his end of the bargain, going so far as to say that it was outright intentional corruption that Horn won. Screaming Stephen A. Smith called for the "mugshots" of the three judges and demanded addresses to send them some gifts. He completely lost it when he found out that two of the three judges were American. That's kind of a big detail to leave out of the immediate "home cooking" post-fight story line.
Here is the scorecard from #PacquiaoHorn pic.twitter.com/RNx7XoUxQR

— Kevin Iole (@KevinI) July 2, 2017
Even worse for the judging analysis, there was no attempt within an hour of post-fight coverage to GET THE ACTUAL SCORE CARDS in order to look at how the fight was scored round-by-round. Instead, viewers were treated to Screaming Stephen A. Smith proclaiming that this horrible decision was exactly why UFC is taking over while boxing is bleeding like a stuck pig. A creative narrative to pull off given ESPN proclaiming Top Rank to be "the NFL of boxing" and ESPN as a network "leading the resurgence in boxing" by airing Top Rank fights that HBO didn't want to pay for any longer.
Ignorance and lack of detail permeated the post-fight coverage. It was exactly the kind of parody someone from the outside who hated ESPN would have conjured up in a cartoon come to life.
It was a clear and present warning to UFC not to leave Fox Sports. Fox Sports has an exclusive negotiating window with UFC right now. Ari Emanuel and WME-IMG have a reported desire to split the UFC product onto multiple networks in order to cash in. If they choose to split part of their product with ESPN, they'll be giving up some of the production control to the network they do business with. ESPN's handling of the Manny Pacquiao-Jeff Horn fight should be a five-alarmer for every UFC fan.
ESPN does train wrecks, personality debates, and Embrace Disgrace. Fox Sports is unfortunately headed in the same path. The difference between the two networks is that Fox will let UFC do what it needs to do to produce the right kind of show. There is no such quality quality in Bristol and it showed.
Topics: Boxing, Media, UFC, Zach Arnold | 1 Comment » | Permalink | Trackback |
« Previous Entries
Next Entries »