By Zach Arnold | October 4, 2017
Iger got involved in Jemele Hill discussions and ultimately decided ESPN & Disney shouldn't take action against Hill https://t.co/zKY2hbaLC8

— Hollywood Reporter (@THR) October 3, 2017
Intrepid MMA veteran writer Damon Martin is reporting that Fox Sports' exclusive negotiating window with UFC has expired. UFC is now free to negotiate with other television networks. Fox will undoubtedly be given a right to match any offer. The network views UFC programming as critical to the future of Fox Sports given MMA's product format of quick action and tight time windows.
A lot of things have changed in the television landscape in the last four months.
First, Bob Iger is leaving Disney in the middle of 2019. Iger has branched out into politics and those who have speculated a political run in his future aren't looking so stupid right now. Iger, along with John Skipper, have been driving forces behind turning ESPN into a rabid political machine. With ESPN's core cable business in decline and Trump television ratings hot, ESPN management embraced America's political civil war. Trump is the raging topic in NFL and NBA social circles. Going to war against Trump is a pyrrhic victory for ESPN that will lead to long-term ratings erosion.
Disney is pushing ESPN into the world of streaming in 2018. The problem for ESPN is that they can't air 100% of their cable content on their OTT platform due to contractual obligations. ESPN needs content that they can both own and stream without legal obstacles in the way. ESPN will be competing with both legacy cable networks and Silicon Valley pipelines (Amazon, Twitter, Netflix, Facebook, Hulu/Roku, Playstation Vue).
A collapsing ESPN would be a permanent stain on Bob Iger's business legacy. Trump has already managed to weaponize ESPN as a tool in America's cultural wars and has played a winning hand so far. Iger was on Trump's business council but resigned over the Antifa vs. White Nationalists battle in Charlottesville, Virginia. Bob Iger admitted on Tuesday at a Vanity Fair summit that he personally got involved in ESPN personnel matters when ESPN host Jemele Hill called Trump a white supremacist.
The media coverage in 2017 about ESPN has been everything except sports. The latest salvo involves ESPN vs. Altice (Cablevision) in New York City. Conditions are deterioriating for ESPN and Disney is in the crosshairs. Disney needs to stop ESPN's bleeding.
The best way to stop the bleeding is to take away the original cornerstone of Fox Sports 1. A marriage between ESPN and UFC seemed unthinkable as recent as six months ago. Not any more. Because…
Second, Amazon and Twitter are compiling huge amounts of video viewership data from their customers on streaming NFL programming. After two weeks of airing NFL games produced by CBS & NFL Network, Amazon executives are publicly stating how aggressive the appetite is for professional sports content on Amazon Prime.
This is disastrous news for ESPN. Amazon was already interested in obtaining the British video rights to the English Premier League. Amazon is in bed with the NFL. The NFL won't be their last sports programming deal. WWE will be available in the coming years. ESPN has long-term marriages with the NFL and NBA that are costly and deliver much less bang-for-the-buck when compared to Twitter & Amazon. Not only has Silicon Valley swallowed up sports rights, they've managed to do it in a way where they aren't putting out major expenditures on production.
The biggest, tastiest sports property on the market right now is UFC. UFC means a lot to Fox Sports. It's hard to justify Fox Sports 1 surviving long-term as a television network without the channel being the home of major UFC events. The value is too great.
Keep in mind that Amazon has as many Prime subscribers as ESPN has households on American cable bundles. Amazon obtaining the rights to some, if not all, UFC programming along with managing Fight Pass would be a huge win for Amazon, UFC, and Reebok. It could create explosive merchandising growth opportunities for UFC.
ESPN needs to sign UFC to fend off both Fox Sports and Silicon Valley. Disney received a giant gut punch two months ago when Netflix poached away prolific American television power broker Shonda Rhimes. Disney is still very profitable and in good shape but ESPN is the albatross. It's unlikely that Disney will be able to sell ESPN to venture capitalists given its monster television contracts with the NFL and NBA. Disney needs to give ESPN CPR and the best way to do it is to go all-in for UFC. Otherwise, ESPN will continue to bleed thanks to a death by a thousand paper cuts.
Topics: Media, MMA, UFC, Zach Arnold | 3 Comments » | Permalink | Trackback |
By Zach Arnold | September 26, 2017
The financial collapse of ESPN is a direct result of escalating television contracts with the NFL, NBA, and college football. ESPN builds shoulder programming around these television properties that they rent but do not maintain a piece of ownership in.
Fox Sports is in the same boat. It has a very close relationship with UFC but does not own a piece of the company. It has not created its own sports properties. It rents programming from the major sports leagues.
With Amazon, Netflix, Twitter, Facebook, and other technology companies racing to outbid the big boys for content deals, content ownership means the difference between survival and life support.
ESPN skeptic Clay Travis recently noted a business dispute between ESPN/Disney and Altice, the new owners of Cablevision and Suddenlink. ESPN is fighting to stay on Cablevision in the New York market. With cord cutting and cord shaving, the price of keeping ESPN on everyone's monthly cable bill is becoming burdensome. A significant amount of cable customers would prefer a skinny bundle without ESPN. This has pushed Disney into forming their own OTT (over the top) platform in 2018 for ESPN. The flaw with this platform is that ESPN cannot air all of its cable programming on this channel due to various contractual obligations.
Twitter has rights to NFL games. Amazon is aiming for British rights to Premier League contests. Tech companies want to get into the distribution game, especially if they can offload the production costs to the leagues producing the content or to a third party to minimize financial risk.
UFC is currently negotiating with Fox Sports. It is very likely that this marriage will continue because Fox Sports 1's future would be vulnerable with cable/satellite providers if FS1 wasn't the primary home of UFC content.
UFC has reportedly requested a significant increase in rights fees. If Fox Sports agrees to a new rights deal, they will be substantially increasing their costs to rent programming. If UFC gets their rights fees extended, is the trade-off giving up a piece of ownership to Fox?
Clay Travis argues that ESPN and Fox Sports will need to start purchasing programming vehicles in order to survive the changing media landscape:
"[ESPN's] ratings are already collapsing. They don't produce original content that people care about and they're in the process of having to wildly overpay or lose the rights that they do have. In the years ahead, ESPN is a shell of a company. They are dead. I believe that Amazon and Facebook and Apple and some of these companies actually decide to come in. That they'll make a massive impact.

"Here's the other thing. Why would anybody buy ESPN? They have a distribution model that's rapidly collapsing and they don't actually own anything. If I were in the business right now, what I would be trying to do is buy up the UFC. If I were Fox, I would have bought the UFC so we don't have to rent it forever. I would go buy the WWE."
One of the great mysteries about Fox Sports is why they didn't build Fox Sports 1 around a sports league or company that they had ownership in. Most cable sports networks in America have built around programming such as professional wrestling. It was the template that Spike TV ultimately used to build UFC into the juggernaut it is now.
If Clay Travis is right about ESPN needing to buy UFC or WWE in order to survive, will Disney convince shareholders it's the right path for survival? If you buy UFC, you're buying a high-risk business that would require keeping Dana White around. Plus, Disney ownership of UFC would be harder to maintain if the Ali Act eventually gets amended to cover Mixed Martial Arts.
The more solid argument for a Disney target acquisition would be WWE. WWE is a medium-to-high risk industry but it is also an industry with a built-in streaming platform that has 1.5 million subscribers. It's the kind of acquisition that works both on tradition cable television and online. WWE is in the cat bird's seat.
Topics: Media, Pro-Wrestling, UFC, WWE, Zach Arnold | 1 Comment » | Permalink | Trackback |
By Zach Arnold | September 25, 2017
Just realized this is the 10th anniversary of the Oh Delicious! UFC-PRIDE manga pic.twitter.com/iUfeBnRRRy

— smoogy (@smoogymma) September 23, 2017
There is no stronger cultural stereotype in Japan than that of a mercenary, invading foreigner taking over a business or institution that has no respect for core societal values.
The collapse of PRIDE in 2007 gave UFC a clear and present opportunity to take over the second most profitable Mixed Martial Arts market in the world. At its peak, PRIDE made around $50 million USD a year. Even if you conservatively downgraded estimated year-to-year revenue at $30 million USD, a ten-year market run could have produced $300 million USD.
UFC blew their chance at making hundreds of millions of dollars in Japan because they wanted to run Japan on their own terms and conditions.
The vacuum that exists in Japan for Mixed Martial Arts has never been greater. The verdict from Japanese fans to the current UFC product is a gigantic thumbs down.
What UFC could have done to win in Japan but refused to do
UFC made a smart deal with Dentsu, one of the major Japanese advertising/marketing players, to run several years worth of events. Whenever PRIDE ran major events on New Year's Eve, they relied on the marketing muscle of Dentsu and other agencies in conjunction with Fuji TV to bring home the cash.
UFC 144 was held at Saitama Super Arena in the early hours of the morning. Because of the novelty appeal, UFC drew quite a large crowd — in the 20,000 range. How much of it was paid vs. papered is up to speculation.
It was a card with mostly foreign fighters but at least some names that the Japanese fans knew and cared about – Mark Hunt, Rampage Jackson, Yoshihiro Akiyama. For a one-shot deal, it worked OK. It produced enough momentum that UFC should have been able to build upon and progress into making Japan a sustainable big-show market.
Instead, UFC decided to treat the Japanese market as a pit stop. Perfunctory events at Saitama Super Arena in successive years with declining attendance. Two years ago, there was Josh Barnett vs. Roy Nelson. This year, it was Ovince St. Preux vs. Yushin Okami (replacing Mauricio Shogun).
Friday's card at Saitama Super Arena featured one interesting Japanese prospect — Shuri Kondo. Kondo fits all the characteristics of what a successful PRIDE fighter would have been. A top professional wrestler. Charismatic. Tough. Aggressive. Cross-marketability. Finding Japanese fighters with these characteristics is currently a challenge.
Naturally, UFC booked her as the third fight on the Saitama Super Arena fight card despite the fact that she's significantly more relevant than Takanori Gomi and Yushin Okami. Both men are beyond their expiration date and should have never been booked in the first place.
The complete lack and total development of Japanese fighters with true Japanese-style marketing is UFC's fault. If UFC decides to sign Kondo to a long-term deal (which they should), then they will force her to give up professional wrestling. That would be a terrible decision. It is professional wrestling that has served as the most successful backbone to stardom for Japanese MMA fighters. UFC has no problem with Brock Lesnar going back and forth between WWE and UFC because of the PPV buy rates he attracts but they have a real problem with it when it comes to booking prospects who could make them a lot of money.
UFC failed completely to obtain a major Japanese television deal. Japanese fans want to support a Japanese company or, at the very least, a company that embraces some Japanese culture. After years of failing in Japan, WWE figured out that if they poached stars like Shinsuke Nakamura, Kana (Asuka), and KENTA (Hideo Itami) that they could run events in Japan a few times a year to promote the WWE Network. What do you know? It's working. New Japan is still the dominant wrestling player in Japan but WWE recognizes it and understands its importance in the fight ecosystem.
Model has shifted. Most UFC events aren't meant to create waves. You aren't supposed to get excited. They fulfill TV obligations. That's it.

— Jonathan Snowden (@JESnowden) September 21, 2017
UFC has turned into the vanilla ice cream of marketing. It's the same damn matchmaking formula on every show. The same cage. The same advertisers. The commentators come and go but it's the same televison production format. The only time UFC went bold was that ROMANEX-ugly mustard cage canvas for UFC 200.
The formula to win big in Japan has never changed.
Use a ring, not a cage.
Go big on production values, preferrably with a platform entrance and signage.
Don't book guys with a ton of tattoos because it's a no-no for TV network suits who are always under pressure about yakuza politics.
Book strong Japanese names, preferably with Olympic or pro-wrestling backgrounds, in fights they can win.
UFC promoting a non-cage event? Sacrilegious? Hell, it would be a great marketing trick for Zuffa to make their Japanese shows feel special by promoting events in ring only for the Japanese.
None of this is hard to do. Given UFC's talent pool and cash on hand, they should be swimming in hundreds of millions of dollars in revenue in Japanese shows. Instead, business for each successful Japanese UFC show has declined! This should have never happened. It's a dark stain on UFC's legacy. They wanted PRIDE out of business and bought the PRIDE assets to do it. They encountered hostility when they tried to run PRIDE with Dream Stage employees. That happens. UFC encountered individuals who were angry and pigeon-holed Zuffa into the white imperialist stereotype of gaijin who never intended on embracing cultural values but instead were vulture capitalist mercenaries.
That doesn't mitigate the fact that UFC, under their own brand and auspices, had a responsibility to the Japanese market to keep Mixed Martial Arts alive in the country. When a market is worth hundreds of millions of dollars in potential revenue, you do what you have to do to make it work — not just for UFC's bottom line but also for the health of the sport on a world stage. When the Japanese MMA market is red hot, the sport is a lot more interesting and a lot richer for fighters.
Topics: Japan, Media, MMA, PRIDE, UFC, Zach Arnold | 7 Comments » | Permalink | Trackback |
By Zach Arnold | September 22, 2017
There is a American crisis of confidence when it comes to officiating of boxing and Mixed Martial Arts, especially for high-profile championship fights.
There's two ways to address the problem: 1) Personally go after the people in charge or 2) Create a plan simple enough for regulators to adopt that they can take credit for and not screw up.
In response to recent controversies, some behind-the-scenes boxing industry influencers are brainstorming a rough draft of a new four-point reformation plan on regulating officiating in combat sports. The idea is to increase transparency and cooperation among promoters and officials. The four-point plan would give current regulators a chance to significantly upgrade officiating without costly or time-consuming protocol implementations.
Based on our conversations with these individuals, the four prongs of the proposed reformation plan would implement the following changes:
Sanctioning bodies providing fighter camps with a list of licensed officials to mutually select and agree upon
Using a judge backstage with access to a three-camera set-up
Athletic commissions creating post-fight mandatory media availability sessions to all officials
Creation of formal or informal post-fight peer review sessions involving all referees & judges who work a fight card
First reformation prong: Referee and judge selection
Currently, athletic commission select their own officials from a broad pool of licensees. At athletic commission meetings, fighter camps can attempt to engage in a quasi voir dire process to strike an official from a fight. However, the final say goes to the Executive Officer/Director and the athletic commission board members.
The new proposal would be modeled on arbitration. The sanctioning body would provide two fighter camps a list of officials. Each camp can strike a couple of officials from the list, then give a numerical rank to the remaining judges and referees. The weeding out process would create an eventual list of officials to work the championship fight.
The list of officials agreed upon would be added to the bout agreement and approved by the athletic commission.
If neither camp can come to an agreement, the selection of officials would default to the Executive Officer/Director.
Second reformation prong: Backstage judges
NBA games have three on-court officials with an official in Secaucus, New Jersey working replay. Leagues like the NFL and NHL have a similar concept.
The new process, for championship fights, would involve athletic commissions having two options:
Option one – having one of three judges backstage
Option two – keeping three judges at ringside and having a fourth judge (tie-breaker) backstage.
The judge backstage would have access to a television monitor with three main camera angles but no audio commentary. A commission official would be next to the backstage judge and report their score after each round.
Example: In the Canelo vs. GGG fight, three judges had different score cards but ultimately produced a draw. The fourth backstage judge would then have their score card act as the de facto tie-breaker (or cement the fight as a draw).
Third reformation prong: Mandatory post-fight media availability for officials
There is nothing worse than professional sports league shielding officials from the press after controversial decisions. It's especially disgusting for championship prize fighting when athletes are sacrificing years off of their health only to get dump-trucked by a decision with no accountability.
The proposed plan would encourage athletic commissions to escort officials after a championship fight into a secured room with no friends, family, or press. The officials would then be transferred to the media room for a time period of 30 minutes to answer any and all questions about the fight they worked. On the record.
Fourth reformation prong: Peer review sessions
Hospitals have peer review committees where doctors are reviewed by a board of officials on their work. Each state has different levels of protected & privileged communication regarding what is said or written at such meetings. Nevada spells out their protected peer privilege laws here.
This fourth proposal has two routes: a public option and a private option.
The public option for peer review would involve athletic commissions creating their own sub-committee with active & retired licensees — fighters, referees, judges. The sub-committee would allow honest and open discussion between current officials and regulators without fear of punishment. The sub-committee could hold their own additional meetings with stakeholders.
The private option would involve all officials (judges & referees) working a fight card to attend post-fight informal peer review meetings. No other regulators from the athletic commission, fighters, press, or family members would be allowed to attend the meeting. A players-only type meeting. It would be a strictly off-the-record conversation. All officials would be required to leave audio & video recording/writing devices outside of the designated room. Nothing would be recorded. No Facebook photos. No social media selfies. No pen and paper.
The general theme is to create an environment where all officials hold each other accountable but do so in a way where regulators aren't breathing down their neck or having moles/spies infiltrating the evaluation process.
This idea is only successful if the Executive Officer/Director rotates officials in-and-out of events rather than sticking with a regular crew. Absolute power corrupts absolutely and a clique mentality breeds when it's the same officials booked over and over. Nobody ends up learning anything other than to backstab outsiders. It is currently a big problem with the major athletic commissions. It has to change.
In summary: Dramatic changes need to be made by American state athletic commissions in the way officiating is being handled. More power needs to be given to fighter camps and to other officials to discover who the best qualified candidates are.
There is no substitute for judging fights at ringside but it is only one location angle and perspective. With a backstage judge having access to multiple camera angles and less influences from outside the ring, a different much-needed perspective can be added to the mix.
Officials who work championship fights are paid more than standard undercard officials. With great power comes great responsibility and a need for greater accountability. There is no greater accountability than answering questions from an interested and energized press. There is no greater accountability than answering questions and receiving honest feedback from your peers. Peer responsibility, not peer pressure is what is needed. A diverse group of officials analyzing and reviewing performances after fight cards will increase learning and create a sustainable environment to train the next generation of officials.
Topics: Boxing, Media, MMA, Zach Arnold | 2 Comments » | Permalink | Trackback |
By Zach Arnold | September 21, 2017
Andre Ward was one of the greatest pound-for-pound American boxers of all time who managed to waste years of his athletic prime.
Ward's retirement announcement Thursday is surprising but not shocking. His HBO contract reportedly ended. After two wins against Sergey Kovalev, Ward called it quits.
Andre Ward's career was defined as much outside the ring as it was inside the ring. Inside the ring, he was flawless. Outside the ring, a different story. Andre Ward and his business manager, James Prince, engaged in a disastrous multi-state legal battle with promoter Dan Goossen that shaved years off of Ward's career due to inactivity.
Andre Ward and his camp embraced futility by going to war with his promoter Dan Goossen of Goossen-Tutor. The late Goossen went all-in on Ward as his top fighter, promoting him aggressively in Oakland and Ontario (California). Ward's appeal proved to be regional. Even with that marketing handicap, Ward was blessed to be in a major media market — Silicon Valley. Ward and his team should have been able to parlay major tech companies like Facebook, Twitter, and Google into promoting his brand like many of his Golden State Warrior friends have done. It never happened.
Instead, Andre Ward and James Prince went to war with Dan Goossen. They thought the grass would be greener with Roc Nation.
One of James Prince's associates, a man named Antonio Leonard, tried to sue Goossen in Texas claiming that he was unofficially a co-promoter of Ward but was "iced out." Both Ward and Goossen were based in California and entered into valid California contracts approved by the California State Athletic Commission. Leonard was never legally approved as a co-promoter nor was he allegedly licensed in California at the time of the deal.
This was the first of many legal battles to pry Ward away from Goossen. Goossen's legal team quickly fought back and repeatedly beat Ward & Prince in court. Andre Ward tried to get out of his Dan Goossen contract via arbitration with the California State Athletic Commission and failed. Ward then turned around and sued Goossen in Los Angeles Superior Court under a theory of violating California labor law. This lawsuit was filed while the Antonio Leonard lawsuit was filed in Houston under a theory of Texas law applying. Ward had his case tossed out in Los Angeles. A second arbitration hearing with the California State Athletic Commission ruled that Ward was under contract with Goossen until November of 2016. Ward then filed an Ali Act lawsuit against Goossen in Federal court. Goossen would die from liver cancer in October of 2014.
All of this legal fighting potentially cost Andre Ward fights worth millions of dollars. It shaved years off of his in-ring career. It damaged his ability to become a powerhouse box office draw. His two fights against Sergey Kovalev drew underwhelming PPV numbers. 165,000 PPV buys for the first fight and 130,000 PPV buys for the re-match.
Andre Ward's in-ring perfection was overshadowed by legal and business decisions I would classify as horrific. One of the all time great "what if" careers has come to an end. It should have never been like this. He blew it.
Topics: Boxing, Media, Zach Arnold | 1 Comment » | Permalink | Trackback |
By Zach Arnold | September 20, 2017
A horribly uninteresting UFC fight card at Saitama Super Arena has one shining light — super charismatic and athletic Pancrase champion Shuri Kondo. She has a unique deal where she will be able to wrestle 30 days after her UFC bout happens. At least that is the plan.
Barring a catastrophic fight result, I don't see how UFC will be able to resist signing her to a long-term deal. The question is whether the top-ranked Japanese women's wrestler will give up professional wrestling (short answer: no). Will UFC play ball? They should…
Topics: Japan, Mike David, MMA, Pancrase, UFC, Zach Arnold | No Comments » | Permalink | Trackback |
By Zach Arnold | September 18, 2017
Self-financing is accelerating manipulation & political pressure on Nevada's athletic commission.
I wrote that article a month ago to warn everyone that the new financial structure supporting the Nevada State Athletic Commission would make casinos even more powerful in controlling the way big fights in boxing are handled.
See: Rule changes on a whim (Mayweather/McGregor 8 ounce gloves). More emphasis and additional politicking on which referees & judges work certain fights.
Bob Bennett, the Executive Director of the Nevada State Athletic Commission, did his job in overseeing the Floyd Mayweather/Conor McGregor and Canelo Alvarez/Gennady Golovkin fights. The casinos have never seen bigger paydays at the gate and at the sportsbooks. The public desire to see a rematch between Alvarez and GGG is high.
As long as the manipulation makes money for the major casinos financing the big boxing fights, everything is good. It's when the manipulation costs casinos money that all hell breaks loose.
Keith Kizer had CJ Ross. Bob Bennett has Adalaide Byrd. Both female judges were involved in controversial scorecards involving Canelo Alvarez.
Byrd's 118-110 score card in favor of Canelo over GGG assured a draw on Saturday night. Which means Las Vegas will get a re-match. The casinos will make even more money.
The fly in the ointment is that Byrd's 118-110 score card just cost casino sportsbooks millions of dollars.
These are the words that should send a chill down Bob Bennett's spine:
"We needed Triple G by decision," Jay Rood, vice president of MGM race and sports, said. "The draw was a big swing for us."

"We took a lot of late money on Triple G," South Point sportsbook director Chris Andrew said. "And those guys feel like they got robbed."
1) Will a rematch between Canelo Alvarez and GGG generate more money for Las Vegas than the money Vegas casinos lost in giving out refunds at the sportsbook?
2) Will less money be bet at the sportsbooks for the rematch due to fears of scorecard shenanigans?
These are the questions that will determine whether or not Bob Bennett keeps his job as Executive Director of the Nevada State Athletic Commission or if the casinos tell him to take a hike.
Topics: Boxing, Media, Zach Arnold | 1 Comment » | Permalink | Trackback |
By Zach Arnold | September 13, 2017
UFC ace Jon Jones failed a USADA drug test for the steroid turinabol. The B sample came back positive for turinabol.
Andy Foster, Executive Officer of the California State Athletic Commission, publicly pleaded for due process rights while claiming that five attorneys for the state of California were investigating the failed USADA drug test.
Both USADA & the California State Athletic Commission are expected to have appeals hearings with Jon Jones over the turinabol drug test result.
Percolating underneath the impending appeals hearings is the serious revelation that the California State Athletic Commission does not drug test UFC fighters who are tested by USADA. This blockbuster development was revealed by Andy Foster during a Sherdog Radio interview.
It is nothing new for athletic commissions to approve third-party drug testing collectors like USADA or VADA to collect samples from fighters. What is new is the admission from California that USADA-tested fighters are not drug tested by the California State Athletic Commission.
"We use them to avoid redundancy."
That answer doesn't pass the smell test. It is one thing for an athletic commission to approve supplemental drug testing to an agency like USADA. It is an entirely different situation to outsource drug testing to USADA under the rationale of redundancy and saving money.
The allure for California to outsource drug testing of top UFC fighters to USADA is easy to understand. It doesn't make it right. It creates a scenario of "what ifs" when a fighter fails a USADA test. Would the fighter have tested positive for the same drug under a California-administered drug test? Are there different protocols relating to chain of custody in handling samples?
The attorney expected to represent Jon Jones in his appeal with California is Howard Jacobs. Jacobs represented Alexander Shlemenko and faced ridiculous due process roadblocks from a completely biased California State Athletic Commission board that engaged in disparate treatment. That resulted in a Los Angeles Superior Court judge putting California on blast. Jacobs will be facing the same hostile board in trying to represent a client who is staring at the prospect of at least a two-year suspension.
The history of the California State Athletic Commission handling drug testing affairs for fighters has been legally sketchy. Given the high-profile nature of the fighter in question (UFC top star Jon Jones), they can't afford to screw up when the world is watching.
Topics: CSAC, Media, MMA, UFC, Zach Arnold | 3 Comments » | Permalink | Trackback |
By Zach Arnold | September 5, 2017
Earlier this year, Yoshihiro Takayama suffered a spinal cord injury. Donations to him & his family can be made belowhttps://t.co/YkFmsXwOHQ pic.twitter.com/2tOks7hdXI

— Simon Grimm (@GotchStyleWWE) September 4, 2017
Japanese icon Yoshihiro Takayama is paralyzed from the neck-down and is unlikely to regain full body movement for the rest of his life. He suffered injury four months ago during an in-ring accident in a professional wrestling match.
Takayama's top wrestling rival, Kenta Kobashi, has established a donation section on his FortuneKK store for fans to make donations via credit card. The donations will be used for all expenses occurred as a result of Takayama's accident.
The legend of Yoshihiro Takayama
I can't write the modern history of Japanese MMA without mentioning the name of four famous professional wrestlers: Kazushi Sakuraba, Yoshihiro Takayama, Shinya Hashimoto, and Naoya Ogawa.
Sakuraba and Takayama both came out of the UWF-International system in the mid-90s. If you had put a gun to my head and made me pick which two UWF-International wrestlers I would have picked to become the Japanese icons of MMA's golden era, I wouldn't have picked either man. Sakuraba was a promising talent but languished in the middle of the fight cards. Takayama was the goofy comedic sidekick to matchmaker Yoji Anjoh. Anjoh & Takayama were known as The Golden Cups and feuded in both WAR (Gen'ichiro Tenryu's promotion) and New Japan. Anjoh, it should be noted, was the emissary sent to confront Rickson Gracie with Japanese photographers on stand-by. Rickson beat Anjoh up so badly that Japanese fans and media pressured UWF-International ace Nobuhiko Takada to fight Rickson to avenge Anjoh's loss of face. That's how PRIDE started.
Takada would lose twice to Rickson. Sakuraba, coming off of the infamous UFC Japan situation with Conan Silviera at Yokohama Arena, would become the ace of PRIDE and obtain legendary status with his feud against Royce Gracie.
The road for Yoshihiro Takayama was much different. He formed a very promising tag team with Takao Omori in All Japan Pro-Wrestling called No Fear. Omori was an unusual character with a swimming eye and mannerisms but he had great athletic skill and worked really well in tag scenarios. Takayama was the Japanese giant.
The tag team would get derailed under mysterious circumstances when Omori lost face after he was humiliated by former New Japan Pro-Wrestling heavyweight ace Shinya Hashimoto in the NOAH ring in December of 2000. A wrestling match turned into a bizarre fight. Hashimoto, under the new wrestling umbrella promotion called ZERO-ONE, was coming off of his own loss of face to the Japanese public after Olympic judoka Naoya Ogawa had humbled him on national television in several fights. Ogawa was Inoki's top ace in wrestling and MMA. Hashimoto was trying to rebuild his reputation and Takao Omori paid the price. NOAH tried to rebuild Omori over the next couple of years, including foreign trips to America, but the potential was shattered. No Fear was No More.
Around this same time period, major advances were being made by Antonio Inoki to work with PRIDE and K-1 to produce major league fighting events on New Year's Eve. The first mega event, before the major broadcast television partners got into the bidding wars, happened on December 31st, 2000 at the Osaka Dome. Inoki was busy blending the worlds of wrestling and MMA together. Results that happened in MMA would impact status in the professional ring. (See: Tadao Yasuda.)
Winning by losing
Yoshihiro Takayama got into the MMA game and endured two incredible beatings in 2002. His fight with Don Frye is still the most legendary slobberknocker in the history of Mixed Martial Arts. Takayama's fight with Frye made the giant a household name in Japan. He was able to earn a substantial amount of bookings.
Three months after the Frye fight, Takayama would wrestle Japanese professional wrestling super boss Mitsuharu Misawa at Nippon Budokan in Tokyo for the GHC Heavyweight title in a brutal match that resulted in Takayama taking another trip to the hospital. This was the re-match from their first encounter in April of 2001.
And three months after that fight, Takayama would get pummeled by Bob Sapp on New Year's Eve.
Takayama absorbed and delivered three incredibly vicious, ruthless beatings that no human should ever possibly be involved in. Every beating he dished out and took, the myth of Takayama grew and gave him an incredible aura.
The beatings added up very quickly, however. Fight opponents took liberties with violence because of how tolerant Takayama was of accepting as many beatings as he delivered. He suffered a stroke in a famously violent G-1 tournament match against Kensuke Sasaki in 2004. Despite the health scares, Takayama continued to wrestle in some high-profile fights — including the January 2010 Tokyo Dome match against current WWE ace Shinsuke Nakamura.
Without question, Takayama was and remains one of the most respected Japanese professional wrestlers ever — both behind the scenes and in the ring. In numerous conversations I've had with American wrestlers who shared locker rooms with Takayama, they all remarked at what a genuinely nice guy he was. Takayama has a famous love for classic cars, American culture and traveling, and music. He has quite a few memorabilia items of KISS and The Rolling Stones. One wrestler in particular told me that Takayama had a dream to visit all 50 American states but that he wasn't sure if he could do it.
In professional wrestling, you never know when your next bump will be your last bump. Ask the MMA legends who made the cross-over to professional wrestling. Don Frye endured significant punishment in his wrestling encounters. Both Frye and Takayama are in very difficult life situations but their names will be forever married in fight culture.
Donations for Yoshihiro Takayama
Takayama's top wrestling rival, Kenta Kobashi, has established a donation section on his FortuneKK store for fans to make donations via credit card. The donations will be used for all expenses occurred as a result of Takayama's accident.
Topics: Japan, PRIDE, Pro-Wrestling, Zach Arnold | 5 Comments » | Permalink | Trackback |
By Zach Arnold | September 4, 2017
This event will be on DAZN in Japan. I'm not sure if it will air on terrestrial television or not…
9/23 Saitama Super Arena (8:30 AM Japanese standard time)
Under card
Welterweights: Daichi Abe (Pancrase) vs. Lim Hyun-Gyu
Strawweights: Shuri Kondo (Pancrase champion) vs. Chan Mi Jeon
Flyweights: Jussier Formiga vs. Ulka Sasaki
Welterweights: Alex Morono vs. K-Taro Nakamura
Welterweights: Luke Jumeau vs. Shinsho Anzai
Flyweights: Jenel Lausa vs. Naoki Inoue
Main card
Featherweights: Charles Rosa vs. Mizuto Hirota
Featherweights: Teruto Ishihara vs. Rolando Dy
Light Heavyweights: Gokhan Saki vs. Henrique Da Silva Alves
Lightweights: Takanori Gomi vs. Kim Dong Hyun
Strawweights: Jessica Andrade vs. Claudia Gadelha
Light Heavyweights: Mauricio Shogun vs. Ovince St. Preux
Since UFC's fight several years ago in Japan, each successive event has had less and less attention. UFC has had a golden chance to take over a major combat sports market and failed to do so.
Topics: Japan, Media, MMA, UFC, Zach Arnold | 5 Comments » | Permalink | Trackback |
By Zach Arnold | August 31, 2017
UFC champion Jon Jones was drug tested by both the California State Athletic Commission and USADA (US Anti-Doping Agency) before and after his UFC 214 bout with Daniel Cormier in Anaheim, California for the UFC Light Heavyweight title. USADA is contracted with UFC, hence that is a private contractual matter that fighters waive their administrative rights to. Two parallel tracks.
Jon Jones passed California State Athletic Commission drug tests. However, Jon Jones initially tested positive for the oral steroid turinabol in a pre-fight USADA test.
Jon Jones has requested that the B sample by tested by USADA to confirm the findings of the USADA A sample for drug testing. If the B sample confirms the A sample results, Jones will have to pursue a two-track legal route with an appeal before the California State Athletic Commission and arbitration with USADA.

California State Athletic Commission Executive Officer Andy Foster
In a strangely curious interview with MMA Junkie, California State Athletic Commission Executive Officer Andy Foster publicly commented about Jon Jones testing positive for the oral steroid turinabol in a USADA drug test. Foster commented on the matter while preaching for due process rights.
The horse is already out of the barn. The news about Jon Jones failing a USADA drug test should have never been made public by UFC or any administrative body until the B sample was already tested to confirm the testing results from the A sample.
By going public with the results from the A sample USADA tested, the court of public opinion has already been tainted. UFC has the right to disclose the USADA testing results since their fighters have contracted with them for drug testing services. That doesn't make it right, however.
Even worse, Athletic Commissions who allow USADA testing of UFC fighters like Jon Jones should keep their mouths shut until the B sample testing results are concluded. There is no point in publicly commenting on USADA test results until more information is processed.
The MMA Junkie interview with Andy Foster served zero purpose other than to grab headlines and inflame a sensitive situation.
"At that point, one of two things is probably going on here: He's either extremely careless, or he's a cheater," Foster said. "I know he's already been extremely careless once in his career … but none of this makes any sense. That's why I think it's very important that we vet this and look at all the available evidence before we jump to conclusions and hang this guy out to dry."
A UFC fighter, especially UFC champion Jon Jones, understands that failing a drug test is an issue of strict liability. There are mitigating circumstances to reduce the punishment but punishment is coming nevertheless.
Andy Foster commenting on possible intent is irresponsible. You either pass or fail the drug test. In this situation, it was a USADA test that Jon Jones failed and not a California drug test.
If the intent of the MMA Junkie interview was to show that California is really on the case and is on top of things, you can see why Andy Foster claimed that he has five attorneys from the Department of Consumer Affairs in Sacramento and the Attorney General's office in San Diego handling the Jon Jones USADA drug test failure. What do you need five attorneys for? This is preposterous grandstanding. It's also an admission of either administrative overzealousness in Sacramento or rank incompetence. Claiming that you have five attorneys investigating UFC champion Jon Jones for allegedly using the oral steroid turinabol is a gigantic waste of the Athletic Commission's budget, no matter how large the fine is going to be against Jon Jones.
It's time for the powers-that-be to address due process issues for fighters who initially fail drug tests. Now set a good example by staying silent until B samples are tested before you publicly comment on such matters as an administrator.
Topics: CSAC, Media, MMA, UFC, Zach Arnold | 4 Comments » | Permalink | Trackback |
By Zach Arnold | August 26, 2017
Dana White was non-committal about whether or not WME-IMG would be open to giving Conor McGregor a piece of UFC in order to keep him active long-term. After Saturday night's fight with Floyd Mayweather in Las Vegas, it is blatantly clear that Conor McGregor will continue fighting in both boxing and MMA. The question is what price it will cost the new UFC ownership to keep the gravy train going.
There is a ready-made fight on the table with Conor McGregor vs. Paulie Malignaggi after their training camp fallout. There are plenty of UFC fights on the table for McGregor at big arenas. UFC has Conor McGregor under contract. They made a lot of money going along with the Floyd Mayweather charade. With as much debt financing as WME-IMG is currently exposed to with their purchase of UFC, they are all-in with homerun mega fights.
Randy Couture commented that Conor McGregor's venture in boxing highlight to the public the financial issues facing top MMA fighters. Once the general public saw the kind of money that Conor McGregor could make in sponsorships and PPV outside the UFC financial model umbrella, Couture believes it will change the way people look at MMA fighters and how MMA fighters conduct themselves. More fighters will try their hand at boxing. The MMA promoters will essentially become hybrid promoters. As long as the Ali Act is not going to get amended any time soon, the MMA promoters are free to do whatever the hell they want.
The drama before the Floyd Mayweather/Conor McGregor fight involved cable, satellite, and internet PPV providers crashing due to the high volume of last-minute PPV buys. Showtime lost money at the last minute because they could only provide a standard definition feed for some providers.
To top everything off, the level of volume at the sportsbooks for the Mayweather/McGregor fight matched or surpassed the Super Bowl. There were a series of 7-figure bets. The casinos won big. As long as the casinos are winning big, Conor McGregor's value remains sky high.
If the UFC wants to continue their marriage with Conor McGregor, they're going to have to sweeten the pot. Since Lorenzo Fertitta is no longer the owner, Dana White sounds open to giving Conor McGregor someone else's money. McGregor is a fabulous self-promoter. He's a great promoter, period. WME-IMG needs him. After the self-destruction (again) of Jon Jones, UFC needs Conor McGregor more than ever.
Topics: Boxing, Media, UFC, Zach Arnold | 5 Comments » | Permalink | Trackback |
By Zach Arnold | August 22, 2017
Jon Jones…you were saying? ? pic.twitter.com/ib9Otlw0Z0

— theScore (@theScore) August 23, 2017
The UFC legacy of Jon Jones can be summarized in one sentence: the only man who could stop Jon Jones was Jon Jones. He is his own worst enemy.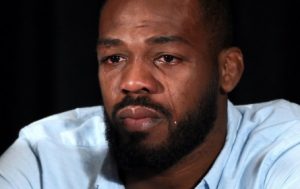 Image credit: Black Sports Online
The history of Mixed Martial Arts is littered with hardcore drug users. Doping isn't necessarily a career killer in the eyes of American sports fans. It's how you handle the public relations. Absurd, but true. If you're apologetic and wink-wink, fans will give you a second chance. If you are shameless and claim you need testosterone to function as a fighter and as a man (e.g. Chael Sonnen), people will laugh along with your charade and continue watching your fights. He still has a career in Bellator.
But what you can't do is lie about using steroids once you get caught and then misrepresent your future intentions. That, for some bizarre reason in America, is when the book will get thrown at you. Call it the Lance Armstrong problem. Being unrepentant about doping won't automatically kill your career. Lying about being unrepentant will.
Jon Jones got busted for the steroid Turinabol. Reportedly a pre-fight drug test prior to UFC 214.
How stupid do you have to be to put yourself into a situation where you were given a second chance to make millions of dollars in fights lined up against Daniel Cormier, Alexander Gustafsson, and Brock Lesnar? Talk about printing money as fast as the Federal Reserve.
Now it's all gone. Finished. You can forget about it. Jon Jones will be inactive for at least another year, if not two years. He's fortunate in that the depth at Light Heavyweight and Heavyweight is shallow enough to allow him to come back and win again. If people were willing to pay to see Jon Jones beat Daniel Cormier at UFC 214, they'll be willing to pay to watch him fight in a couple of years. Right?
Where does Daniel Cormier go to get his reputation back? Even without steroid usage, Jon Jones would have likely won the UFC 214 match. That's the whole problem with doping. You're left to try to come up with the impossible of measuring someone's win probability clean vs. doping. Fighters use steroids to recover from previous damage due to steroid usge. Fighters use steroids to recovery from training injuries. Some fighters use steroids because they really are insecure about their performance and need that placebo effect to impact their mental game.
Jon Jones team already saying Jon is being set up… pic.twitter.com/4BsOMfXOZP

— Izi (@MMA_Inciter) August 23, 2017
Jon Jones is damaged goods. Daniel Cormier's reputation is damaged. He's suffering the same career fate as Michael Bisping. And yet, I still believe that Jon Jones will maintain a more credible athletic reputation amongst UFC fans than Daniel Cormier will. Sad, but true.
Daniel Cormier can't prove the intent behind Jon Jones doping but he could certainly prove that Jones, given his previous suspensions, had the responsibility and foreseeability to follow the right protocols to not get busted again for doping. Cormier can't take back the visual image of losing to Jon Jones at UFC 214. He can't take back the haunting post-fight interview with Joe Rogan. Those are permanent memories.
If UFC cuts ties with Jon Jones, Bellator will sign him after his suspension and make a lot of money. UFC can't afford to cut Jon Jones, especially if current ownership wants to sell UFC off to a group of hedge funders in a couple of years. Outside of Conor McGregor, Jon Jones is the most valuable PPV asset UFC has. Well, right now he is. He still may be their most valuable asset in two years when the time comes for a Brock Lesnar super fight.
All Jon Jones has to do is follow the right public relations playbook on doping. Is he even capable of doing so?
Topics: CSAC, Media, MMA, UFC, Zach Arnold | 10 Comments » | Permalink | Trackback |
« Previous Entries
Next Entries »