« Self-financing is accelerating manipulation & political pressure on Nevada's athletic commission | Home | Post-Floyd Mayweather, Conor McGregor's marriage with UFC demands a piece of ownership »
By Zach Arnold | August 22, 2017

Jon Jones…you were saying? ? pic.twitter.com/ib9Otlw0Z0

— theScore (@theScore) August 23, 2017
The UFC legacy of Jon Jones can be summarized in one sentence: the only man who could stop Jon Jones was Jon Jones. He is his own worst enemy.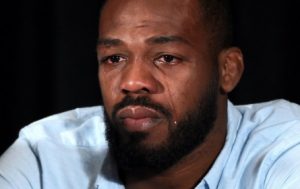 Image credit: Black Sports Online
The history of Mixed Martial Arts is littered with hardcore drug users. Doping isn't necessarily a career killer in the eyes of American sports fans. It's how you handle the public relations. Absurd, but true. If you're apologetic and wink-wink, fans will give you a second chance. If you are shameless and claim you need testosterone to function as a fighter and as a man (e.g. Chael Sonnen), people will laugh along with your charade and continue watching your fights. He still has a career in Bellator.
But what you can't do is lie about using steroids once you get caught and then misrepresent your future intentions. That, for some bizarre reason in America, is when the book will get thrown at you. Call it the Lance Armstrong problem. Being unrepentant about doping won't automatically kill your career. Lying about being unrepentant will.
Jon Jones got busted for the steroid Turinabol. Reportedly a pre-fight drug test prior to UFC 214.
How stupid do you have to be to put yourself into a situation where you were given a second chance to make millions of dollars in fights lined up against Daniel Cormier, Alexander Gustafsson, and Brock Lesnar? Talk about printing money as fast as the Federal Reserve.
Now it's all gone. Finished. You can forget about it. Jon Jones will be inactive for at least another year, if not two years. He's fortunate in that the depth at Light Heavyweight and Heavyweight is shallow enough to allow him to come back and win again. If people were willing to pay to see Jon Jones beat Daniel Cormier at UFC 214, they'll be willing to pay to watch him fight in a couple of years. Right?
Where does Daniel Cormier go to get his reputation back? Even without steroid usage, Jon Jones would have likely won the UFC 214 match. That's the whole problem with doping. You're left to try to come up with the impossible of measuring someone's win probability clean vs. doping. Fighters use steroids to recover from previous damage due to steroid usge. Fighters use steroids to recovery from training injuries. Some fighters use steroids because they really are insecure about their performance and need that placebo effect to impact their mental game.
Jon Jones team already saying Jon is being set up… pic.twitter.com/4BsOMfXOZP

— Izi (@MMA_Inciter) August 23, 2017
Jon Jones is damaged goods. Daniel Cormier's reputation is damaged. He's suffering the same career fate as Michael Bisping. And yet, I still believe that Jon Jones will maintain a more credible athletic reputation amongst UFC fans than Daniel Cormier will. Sad, but true.
Daniel Cormier can't prove the intent behind Jon Jones doping but he could certainly prove that Jones, given his previous suspensions, had the responsibility and foreseeability to follow the right protocols to not get busted again for doping. Cormier can't take back the visual image of losing to Jon Jones at UFC 214. He can't take back the haunting post-fight interview with Joe Rogan. Those are permanent memories.
If UFC cuts ties with Jon Jones, Bellator will sign him after his suspension and make a lot of money. UFC can't afford to cut Jon Jones, especially if current ownership wants to sell UFC off to a group of hedge funders in a couple of years. Outside of Conor McGregor, Jon Jones is the most valuable PPV asset UFC has. Well, right now he is. He still may be their most valuable asset in two years when the time comes for a Brock Lesnar super fight.
All Jon Jones has to do is follow the right public relations playbook on doping. Is he even capable of doing so?
Topics: CSAC, Media, MMA, UFC, Zach Arnold | 10 Comments » | Permalink | Trackback |
10 Responses to "Jon Jones is the kind of UFC drug user that American sports fans hate: a lying drug user"