« Pawel Nastula allegedly fails more drug tests | Home | IFL business data now publicly available »
By Zach Arnold | October 31, 2006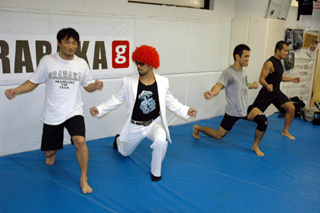 DJ GOZMA gets the GRABAKA boys in shape
So, Bushido is this Sunday at Yokohama Arena. Good card line-up. Denis Martins has an interview with Denis Kang here. Likely a (very) small crowd. Same story for a rather unheralded S-Cup (Shootboxing) event in Tokyo at Ryogoku Kokugikan this Friday featuring Andy Souwer and other K-1 veteran names (Andy Souwer vs. Ian Schaffa, Daniel Dawson vs. Virgil Kalakoda, plus Ivan Menjivar and others).
Here's are are some interesting comments from Takanori Gomi.
Make your predictions for the fights on the upcoming Bushido event here.
Topics: All Topics, Japan, Media, MMA, PRIDE, Zach Arnold | 1 Comment » | Permalink | Trackback |
One Response to "Bushido at Yokohama Arena"