« Puroresu Focal Shows, Summer 2007 | Home | Tuesday headlines: K-1 signs a big deal »
By Zach Arnold | June 25, 2007

By Zach Arnold
More on Benoit's death can be found at SLAM! Sports, The Edmonton Sun, WWE HP, and ABC News. The Atlanta Journal-Constitution and WAGA-TV has further updates. Even Gambling 911 has an update. Fox News has an update with a very sad graphic photo. More details at the Observer.
TMZ is also covering the story. More information tonight at The Citizen newspaper.
Let me pay my respects to Chris Benoit, one of the greatest professional wrestlers in the history of the business. He, alongside his wife and child, were found dead in their Atlanta-area home. Chris Benoit died at the age of 40.
In a professional wrestling business where an extraordinary amount of people die in between the ages of 40 and 50, hearing about Benoit's death is absolutely shocking.
In the past, I have talked about Japanese professional wrestling in glowing terms. The roots of modern MMA in Japan came from the professional wrestling business. Many New Japan wrestlers were trained as both wrestlers and shooters in their dojo system, which created legitimate toughness for all athletes that passed through that system. Chris Benoit was indeed a rare breed — he was a gaijin who lived in the New Japan dojo system. He was unquestionably one of the toughest, most respected men ever to come out of their dojo system — a dojo system that produced al lot of talented individuals.
I'll never forget watching him in a fantastic Super J Cup tournament finals match against The Great Sasuke (the event took place on April 16, 1994 in Tokyo at Ryogoku Kokugikan). It was a fantastic tournament, topped off by Wild Pegasus (Benoit's ring name in Japan) winning with a top-rope gut-wrench suplex. I have so many great memories of Chris Benoit 'the wrestler' in Japan.
This is one of those moments where everyone in the entire fight industry should pay their respects to one of the true greats to ever embrace the sport of professional wrestling. He not only embodied many good things about the industry, but also displayed a sense of toughness and credibility that you simply do not see in today's industry that produces manufactured and cookie-cutter workers.
Update: The content up above was written before further details were released in the media in regards to a murder-suicide.
A murder-suicide… adding another layer of tragedy upon an already sad situation. I guess the best way to react to this story is to pay respects to the man as an athlete and a wrestler, but to also be fair and critical by separating the athlete from the person himself.
Furthermore, it was so bizarre and so surreal to see Vince McMahon on television tonight killing off his own 'death' angle and paying tribute to Chris Benoit. I can't even put my fingers onto words to describe my first reaction when I saw McMahon talking on the microphone in the ring.
More columns: Larry Csonka, The Sydney Morning Herald, Mike Mooneyham (w/ Ric Flair comments), and Broadcasting & Cable. Michael David Smith at The Fanhouse has more thoughts.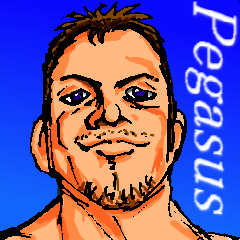 Image credit: Multiple Romantic
The reaction in the Japanese wrestling industry right now is of total shock. (More in Japanese here and here).
Topics: Japan, Media, MMA, Pro-Wrestling, WWE, Zach Arnold | 63 Comments » | Permalink | Trackback |
63 Responses to "Chris Benoit dead at age 40"